Unloading of gas separation columns for the fifth process line is underway at the jetty of the Amur GPP
Photos:
captioned
uncaptioned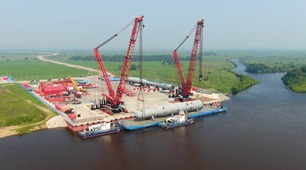 The largest equipment for the fifth process line is delivered to the jetty of the Amur Gas Processing Plant (Amur GPP): methane extraction column (demethanizer) and nitrogen rejection unit.
These are the largest pieces of equipment to be delivered to the Amur GPP during the summer navigation of 2021. Demethanizer weight is 870 tons, the length is 88 m. Nitrogen rejection unit with a length of over 58 meters weighs 883 tons.
Handling works are performed at the Amur GPP jetty with use of two 1350-tons capacity cranes. Equipment is to be transported to the site by crane trucks and self propelled modular transporters.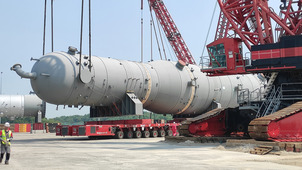 In total, during the summer navigation of 2021, it is planned to deliveer 37 units of equipment with a total weight of around 5.6 thousand tons to the construction site of Amur GPP. Four tug/barge arrangements will be used for transportation of equipment along Amur and Zeya rivers.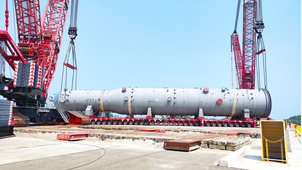 Amur GPP is going to be one of the world's largest natural gas processing plants with annual capacity of 42 bln cubic meters of gas. The products of Amur GPP are commercial gas (methane) and other components, demanded in gaschemical and other industries, produced from commercial gas.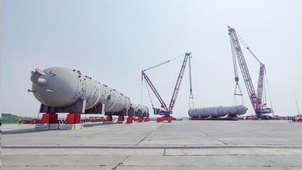 Due to usage of the state-of-the-art equipment and advanced cryogenic technologies, the plant will be able to produce under full load around 2.4 mln tons of ethane, 1.5 mln tons of LPG and 200 thous. tons of pentane-hexane fraction. One of the main products of the Amur GPP is helium. Helium is extremely demanded by high-tech industries. Amur GPP is going to be the world leader of helium production with its annual capacity of 60 mln cubic meters of helium.