About Company
Background
Construction of the Amur Gas Processing Plant (Amur GPP) in the area of Svobodny town, Amur Region, has been underway since October 2015 and was commenced as a part of the Eastern Gas Program of PJSC Gazprom. Its design processing capacity is 42 billion cubic meters of gas per year. A vast infrastructure was created for construction of the Amur GPP, including 27 kilometers of access roads, the Zeya river jetty, and around 40 kilometers of railroads.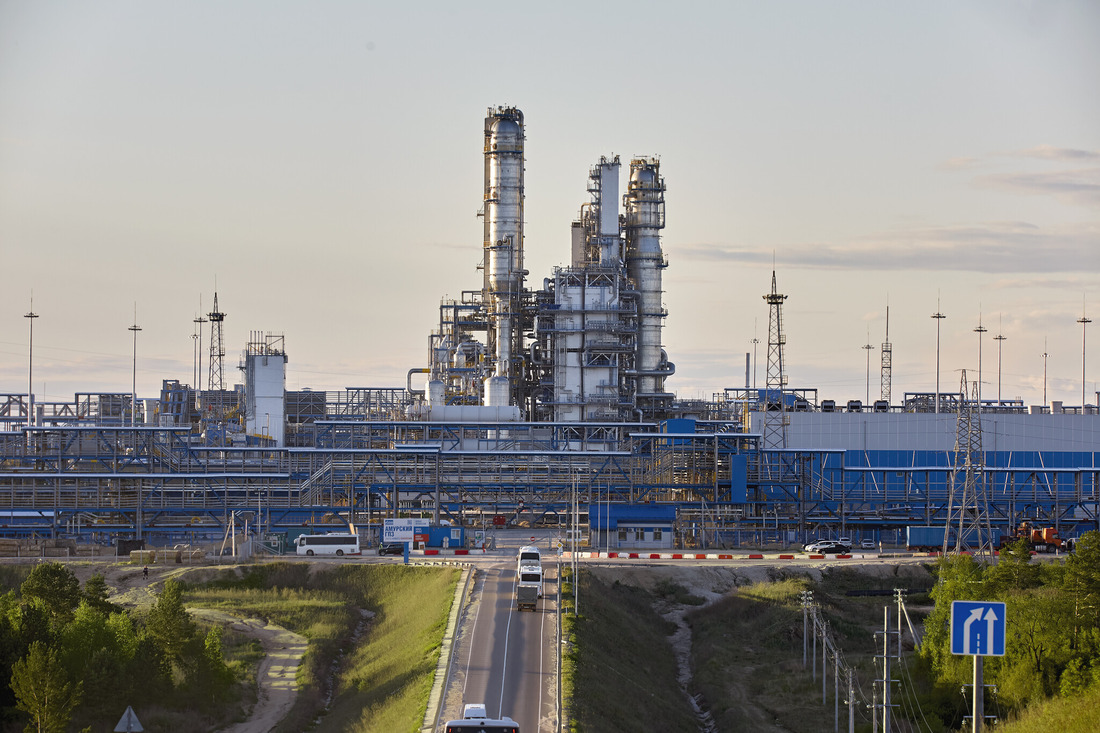 Amur GPP view from access road in 2022.
Plant construction site occupies around 900 hectares, which is equal to around 1,100 football fields. Over 430 thousand cubic meters of concrete are to be poured and over 170 thousand tons of steel structures are to be installed (their weight is comparable to that of 23 Eiffel Towers) during the construction. Overall progress of the Amur GPP construction project in early October 2022 is 87%.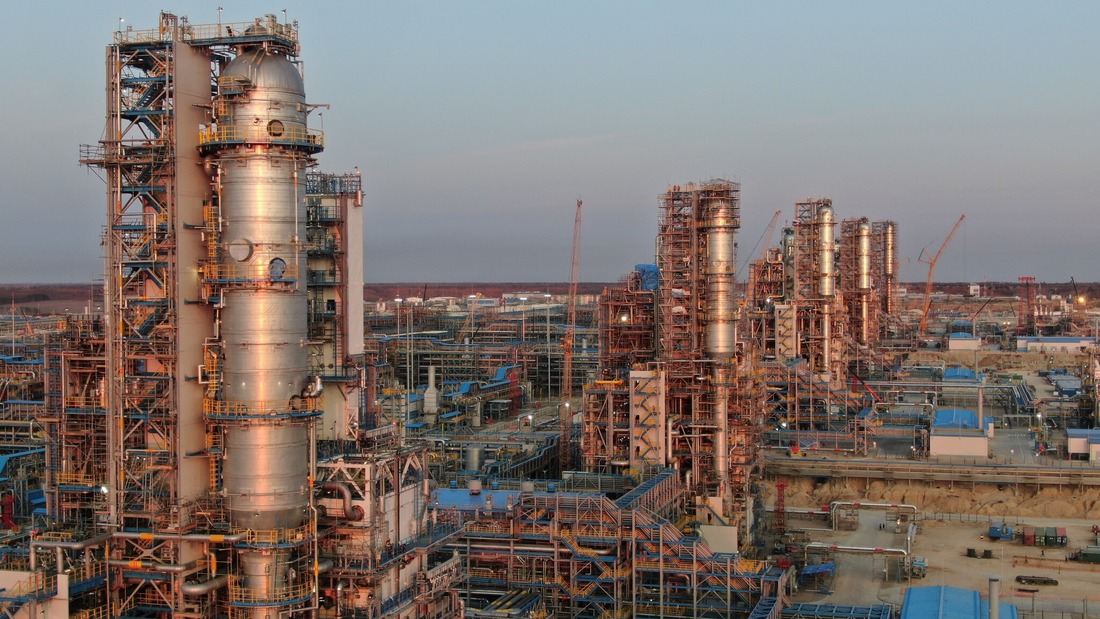 Amur GPP construction site view in October 2022.
Gazprom Pererabotka Blagoveshchensk LLC (member of Gazprom Group) is the investor, owner and operator of the Amur GPP. NIPIGAS JSC is its general contractor.
Production, cryogenic technologies and equipment
The Amur GPP receives multicomponent gas from Chayanda field and in future it will receive gas from Kovykta field through the Power of Siberia gas pipeline. By using the most advanced equipment and cryogenic processes, the plant separates the feed gas into fractions that will be supplied for advanced processing and then used in gas chemical and other industries. The Amur GPP project includes six process lines with an annual capacity of 7 billion cubic meters each and three helium purification and liquefaction units with an annual capacity of 20 million cubic meters each.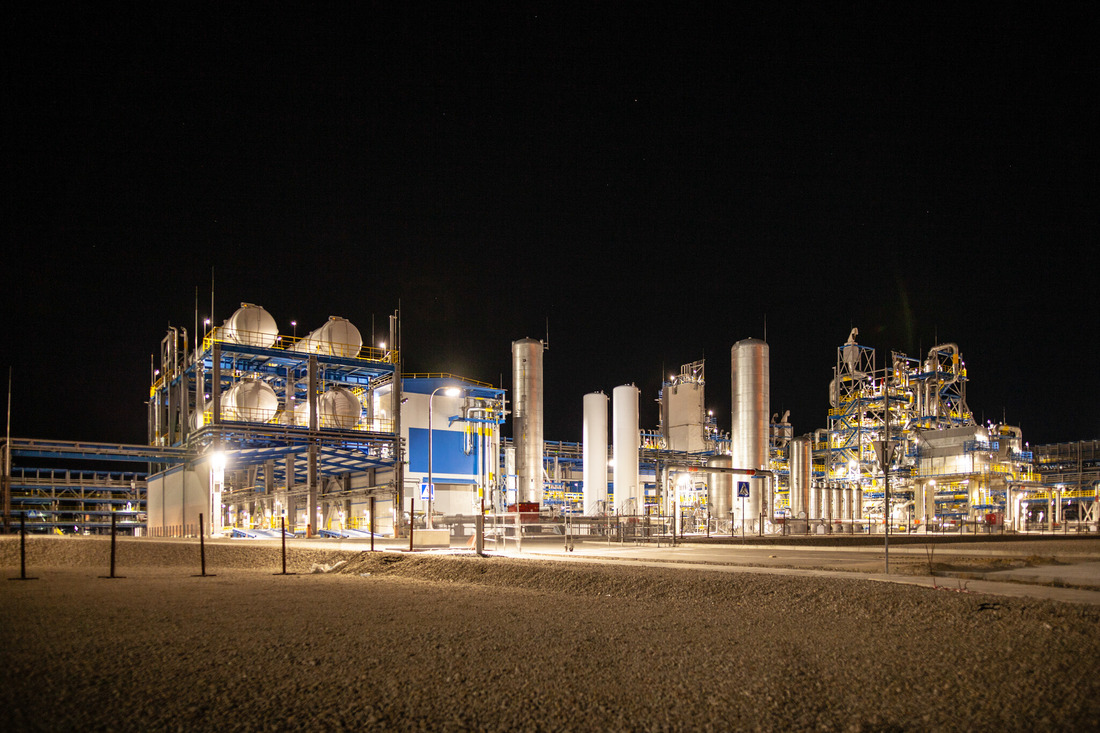 Helium fine purification and liquefaction unit.
The Amur GPP uses products of the Russian heavy engineering companies. In particular, St. Petersburg has mastered the production of the key equipment for helium units, namely, spiral-wounded heat exchangers, for the first time in Russia. Powerful Ladoga gas pumping units are supplied to the Amur GPP. The project involves around 1,000 equipment vendors and over 100 contractors. About 35 thousand people are at the Amur GPP construction site at peak times.
Amur GPP products
Phased start-up of the remaining lines of the Amur GPP is aligned with development of PJSC Gazprom's capacities in Yakutia and the Irkutsk region. Upon reaching full capacity in 2025, the Amur GPP will annually produce:
38 billion cubic meters of purified methane fraction for supplies to China;
2.4 million tons of ethane;
1.5 million tons of liquefied petroleum gas (LPG);
200 thousand tons of pentane-hexane fraction;
60 million cubic meters of helium.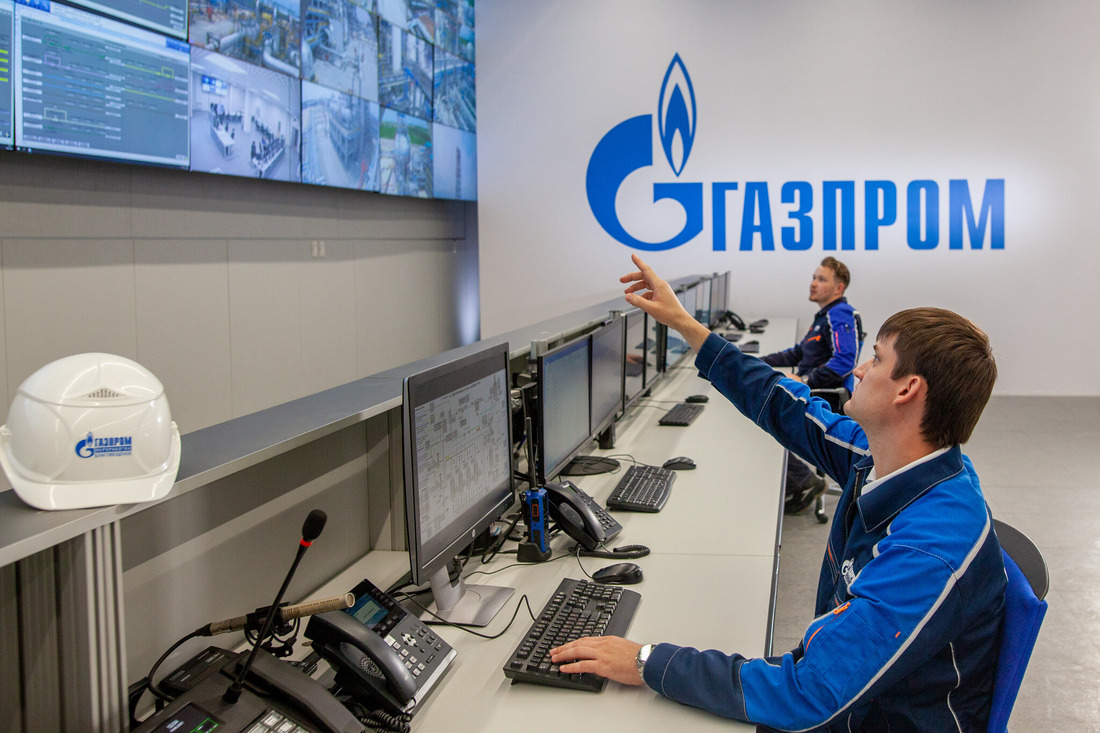 Central control room.
Amur Gas Chemical Complex (joint SIBUR and Sinopec project) is going to be the the main consumer of ethane and LPG from the Amur GPP. Helium is one of the main products of the Amur GPP. It is much-needed by high-tech industries. The Amur GPP is going to be the world's helium production leader with its annual capacity of 60 million cubic meters.
Residential district for the Amur GPP employees
The Alekseevsky residential district to accommodate 5 thousand residents for the Amur GPP operational personnel is in construction in Svobodny. 42 five-storey residential buildings with 1,540 apartments and 36 townhouses with 148 apartments will be built in total. All apartments have high ceilings and are fitted with furniture, household appliances, mirrors, and chandeliers. There are parking and sports and gaming complexes on the adjacent territory.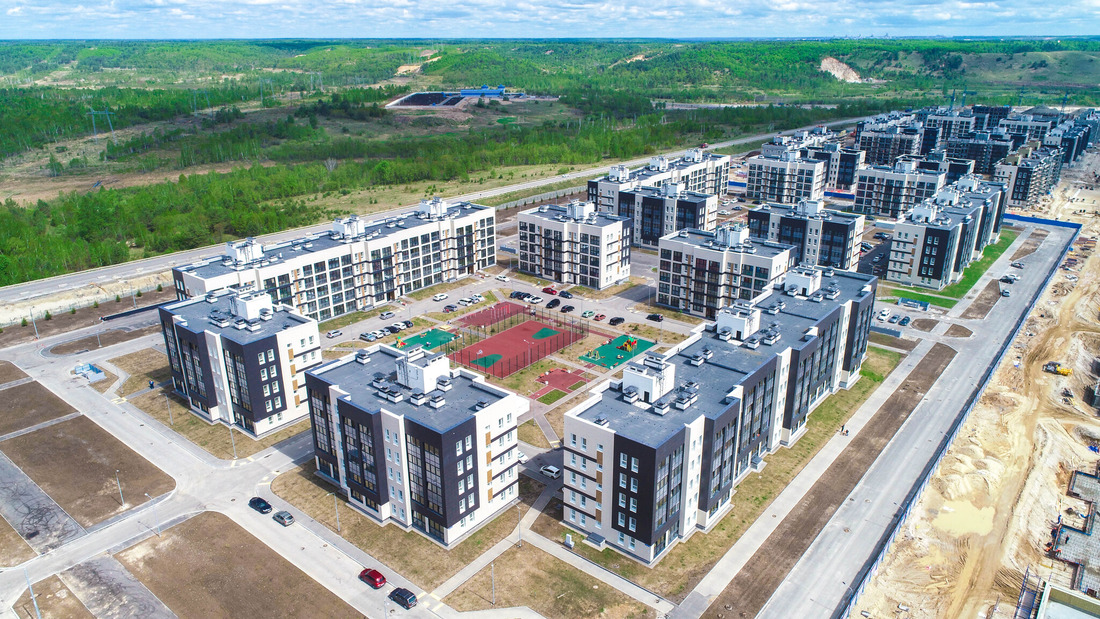 Alekseevsky residential district.
A day care facility with an indoor pool for 350 children, a school for 900 students, a clinic with adult and children's departments, an entertainment center, a department store, a consumer services centre, a general sports complex also will be on the territory. Artesian boreholes have been drilled to supply water to the district. A water treatment complex and modern sanitary effluent treatment facilities are in operation. Heat and hot water are supplied by the district gas boiler house. All facilities are designed for the Russian Far Eastern climate with a temperature difference of negative 40 to positive 40 degrees.
The first 12 five-storey houses with 390 apartments with all the necessary utilities were commissioned on December 23, 2021. Commissioning of the residential buildings will continue in 2022. District construction is scheduled to finish in late 2023. Zhiloy Mikrorayon LLC is the investor and developer. SK Gorizont LLC is the general contractor of the project, while Gazprom Transgaz Tomsk LLC is the technical customer.
Socio-economic significance
The Amur GPP will become the basis for shaping a modern gas processing cluster in the Far East. The plant is going to employ 3,200 people when it reaches its full capacity.
Gazprom Pererabotka Blagoveshchensk LLC cooperates with specialized educational institutions and creates company-financed openings for students. The Amur State University (Blagoveshchensk), the Amur Technological College (Svobodny) with open majors for professions in demand at the Amur GPP are the supporting platforms for training and retraining of the local personnel.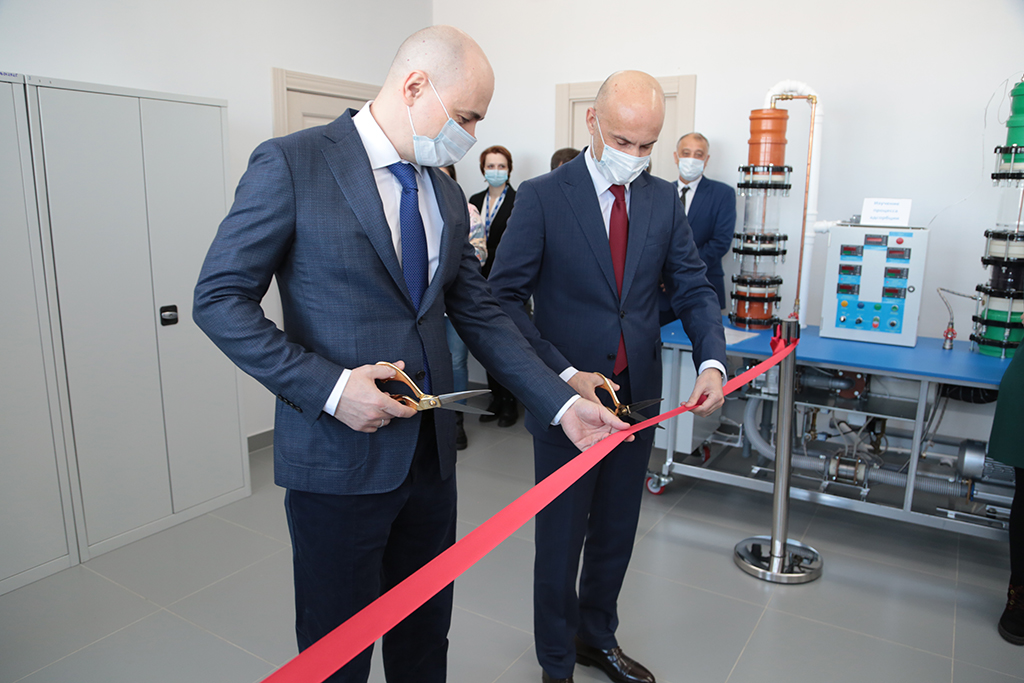 Yuri Lebedev, Director General of Gazprom Pererabotka Blagoveshchensk LLC, and Andrey Plutenko, President of the Amur State University (from left to right).
A dedicated Gazprom class opened in 2017 at school No. 1 in Svobodny for students of grades 9–11. The third set of high school students who will be able to receive a referral for sponsored training in the leading universities of the country is being trained in the class.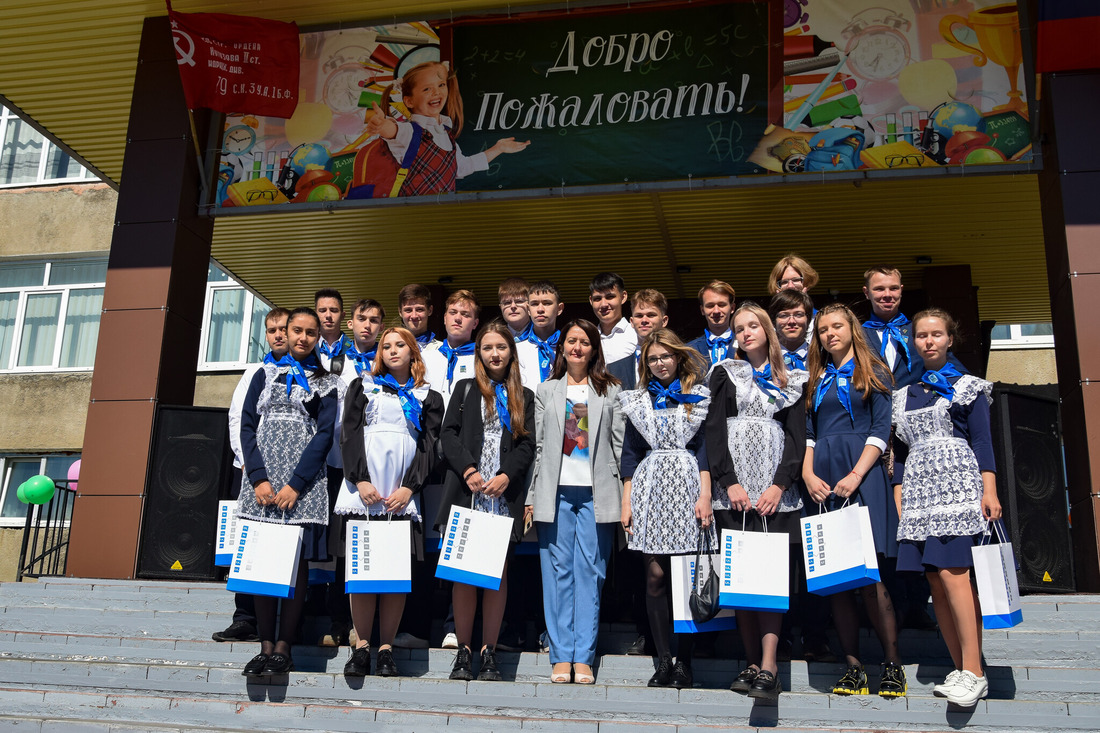 Third Gazprom-sponsored class at school No. 1 in September 2022.
Gazprom Pererabotka Blagoveshchensk LLC cooperates with local communities and supports social, educational and medical institutions of Svobodny town and Svobodnensky District.