Gazprom Pererabotka Blagoveshchensk employees conduct online courses called «Safety and Me» for junior students in rural schools
Photos:
captioned
uncaptioned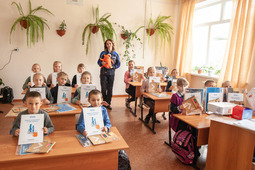 On the eve of summer school holidays, another series of online lectures on safe behavior was held in Ust-Pyora, Chernigovka and Yukhta schools of the Svobodnensky district.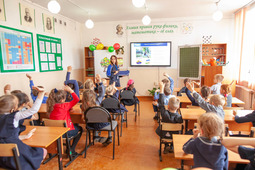 Red cat Amur Amurych is the main character of the fascinating classes held for the students of grades 1 to 4 so that they know how to avoid injuries in their daily life, respond quickly and competently to unexpected dangerous situations, and analyze risks.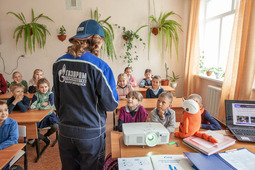 New topic of the classes called «When you are alone» was specially developed with regard to the age of the children.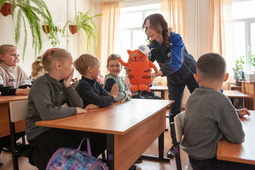 The red cat became the limelight of the children asking questions and giving clues, he helped to involve the participants in the educational process.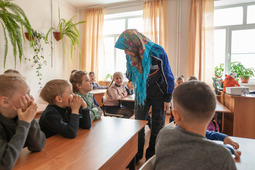 How to behave with strangers, how to understand whether fire is a friend or an enemy, what troubles lie in wait outdoors, and many other topics were discussed in the classes.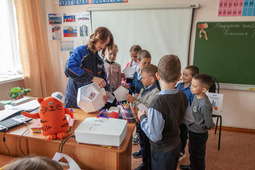 The primary school children learnt the educational material by performing their creative project. With their own hands, they assembled a Safety Polyhedron with rules of conduct and emergency phone numbers.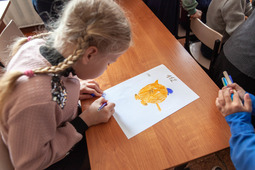 «Today I memorized all emergency phone numbers and I learnt that one needs to be careful in public places and also realized why one shouldn't go far away from one's parents. I promise to follow the safety rules,» Milana Vlasenko, a 4th grade student, shared her impressions.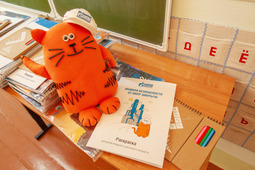 After the class, the students were presented with themed coloring books and safety rules booklets developed specifically for the Safety and Me project.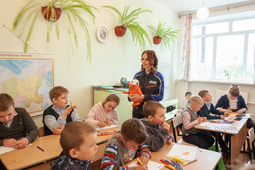 «This class is very vivid, it had its character Amur Amurych and involved the students in specific situations. The classes in a playful form are very useful for the children, and they remember the material more easily. Such work is an invaluable contribution to shaping of safe behavior with children,» Avgusta Leshchenko, Director of Chernigovka school, thanked Gazprom Pererabotka Blagoveshchensk employees.