Tenth-graders of Gazprom сlass in Svobodny take part in 2021 All-Russian Eco-Dictation
Photos:
captioned
uncaptioned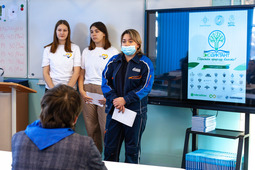 Gazprom class students took part in the All-Russian Eco-Dictation 2021. It was held at Svobodny school 1 which became the official venue of the event. Before the knowledge test began, the students were greeted by the staff of the Environmental Department of Gazprom Pererabotka Blagoveshchensk acting as the investor, owner and operator of the Amur Gas Processing Plant. Nadezhda Pavlovich, environmental expert of the project, told about how environmental protection is organized during construction and operation of the plant, what measures are being implemented to preserve natural resources.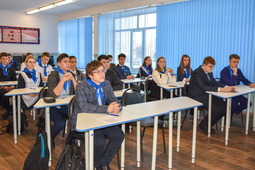 Eco-dictation took 45 minutes, and the students answered 25 questions on a variety of topics, from global to everyday ones: protected areas, flora and fauna, climate, environmental protection, «green» energy, ecology of the Arctic and Baikal.
All participants of the event will receive their certificates, and the winners will be determined a little later depending on the number of points scored.